AXA is a French multinational insurance firm chiefly active in the fields of insurance, investment management and other financial services. A majority of their operations are in Western Europe, Africa, the Middle East, North America, and Pacific Asia. Headquartered in the 8th arrondissement of Paris, AXA is a conglomerate of independently run businesses.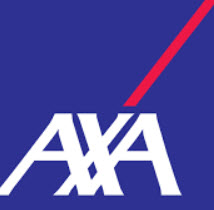 In 2013, AXA Wealth was fined £1.8 million by the FCA for failing to ensure it gave suitable investment advice to its clients in Clydesdale Bank, Yorkshire Bank and the West Bromwich Building Society.
In January 2016, AXA created Kamet Ventures, an insurTech incubator aimed at creating disruptive businesses in the fields insurance, healthcare and assistance space.
In May 2016, AXA announced that it would no longer invest in tobacco shares and bonds, and that it would allow its portfolio of tobacco-related bonds run off.
Short facts about AXA
Name
AXA S.A.
Company type
Société Anonyme
Traded as
Euronext: CS
Index inclusions
CAC 40

Euro Stoxx 50

Industry
Insurance

Financial services

Key products
Life insurance

Health insurance

Property insurance

Casualty insurance

Investment management

Headquartered
25 Avenue Matignon, Paris, France
Revenue
€100.19 billion (2016)
Net income
€5.82 billion (2016)
Total assets
€893 billion (2016)
Total equity
€70.6 billion (2016)
Number of employees
165,000 (2017)
Examples of AXA operations around the world
AXA in Europe
AXA in the United Kingdom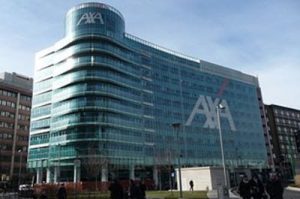 AXA UK has several subsidiaries, including AXA Sun Life, AXA Investment Managers, AXA Wealth, AXA Insurance, AXA PPP Healthcare, and AXA PPP International.
AXA Sun Life was created by merging AXA Equity & Law with Sun Life Assurance Society PLC. Winterthur Life (UK) was absorbed in 2006, but the brand Winterthur is still being used for AXA's high-net-worth wealth management business.
AXA PPP Healthcare, which has its roots in The London Association of Hospital Services, sells individual private medical insurance for individuals, businesses and organisations.
AXA PPP International is focused on health insurance for expatriates.
AXA on the Isle of Man
AXA Isle of Man Limited is a repository for UK and Channel Island citizens seeking to benefit from the tax laws of Isle of Man.
AXA in Ireland
AXA Insurance Ireland is the third-largest general insurer in the Republic of Ireland. It was formed in 1999 when AXA acquired the British-based Guardian Royal Exchange, thus becoming the owners of Private Motorists Protection Association which at the time was one of Ireland's main insurance companies.
AXA Schengen Travel Insurance
AXA Schengen Travel Insurance sells insurance policies to travelers who need a VISA to enter the Schengen Area.
AXA in the Middle East
In the Middle East, AXA operates through AXA Insurance (Gulf) B.S.C, except for Saudi Arabia where AXA is represented by AXA Cooperative Insurance and in Lebanon where AXA Middle East is active.
AXA is the largest insurer in the GCC region (the Arab states of the Persian Gulf, except Iraq) and has been active in this region for over 60 years.
AXA in Africa
AXA operates in several different African countries, including Algeria, Cameroon, Egypt, Gabon, Ivory Coast, Morocco, Nigeria, and Senegal.
Since 2014, AXA has acquired several local insurers to expand on the African continent. They have also started new ventures, and in 2016 AXA announced a partnership with Lloyd's of London insurer Chaucer Holdings to enter the specialty insurance market in Africa through the company AXA Africa Specialty Risks (AXA ASR). Specialty insurance is a strongly growing market in several African countries, and AXA is focusing hard on offering excellent coverage and on-the-ground presence.
Examples of insurance fields: Energy, Construction, Property, Liability, Marine and Aviation, Political Risk, and Political Violence and Terrorism.
AXA in North America
AXA in the United States
In the United States, AXA operates through the company AXA Financial Inc. This company has several subsidiaries, including AXA Equitable Life Insurance (Equitable was acquired in 1991), AXA Network, AXA Advisors, AllianceBernstein, US Financial Life, and MONY (Mutual of New York was acquired in 2004).
AXA in Mexico
In 2008, AXA acquired ING Insurance Mexico and continued to offer essentially the same insurance products as ING.
AXA in the Asia Pacific region
AXA Asia in Hong Kong is the regional office for AXA in the Asia Pacific region, a region where AXA offers life insurance on eight different markets – Hong Kong, China, Singapore, Indonesia, Malaysia, Thailand, the Philippines, and India – and general insurance in Hong Kong, China, Singapore, Indonesia, Malaysia, Thailand, India, and Korea.
On many markets, AXA operates through joint-ventures with local partners.
Background
AXA can trace its roots back to the company Mutuelle de L'assurance contre L'incendie, founded in France in 1816. The name was changed to Mutuelles Unies after the acquisition of Compagnie Parisienne de Garantie in 1978 and to Mutuelles Unies/Drouot after the acquisition of the Drouot Group in 1982.
In 1985, the company changed its name to AXA since the internationally expanding company wanted a name that could be easily pronounced worldwide. AXA is not an acronym; the name was created by an outside consultant tasked with finding a name that was short and snappy, conveyed vitality and was easy to pronounce.
Examples of acquisitions from 1990 and onward:
| | | | |
| --- | --- | --- | --- |
| Company name | Country | Acquisition year | Info |
| The Equitable | USA | 1991 | |
| Union des Assurances De Paris (UAP) | France | 1996 | The largest insurer in France at the time of acquisition |
| Guardian Royal Exchange Assurance plc | UK | 1999 | |
| Sun Life & Provincial Holdings | UK | 2000 | |
| Winterthur Group | Switzerland | 2006 | Purchased from Credit Suisse for approximately €9 billion |